If it weren't for his enormous ego, Donald Trump might've been taken down a peg after he started bragging about his election victory to a group of construction union workers.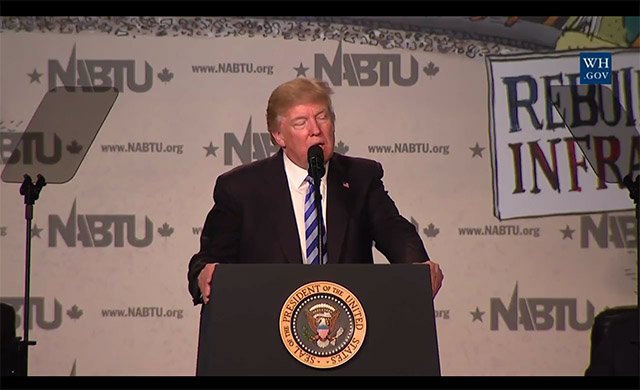 The POTUS took some time out of his busy schedule of golf and lying to speak in front of the North American Building Trades Union. He touched on the topic of the "anger and hatred" of Democrats, and made the laughable claim that it's "almost impossible" for a Republican to win the electoral college.
Even though his speech was reasonably well-received, he caused a bit of a disturbance with one of his boasts.
'We ran the coast. And if you don't run it, you can't win. Huge disadvantage the electoral college is, very tough. They say almost impossible for a Republican to win. But I had the support of, I would say, almost everybody in this room. We had tremendous support. Oh we did. And I'll tell you we really had the support of the workers.'
Igor Bobic, a reporter for the Huffington Post, tweeted that an audience member stood up immediately at that comment and declared "Nope, nope!" Laughter, and a few boos followed, but were drowned out by the applause of the Trump loyalists.
Trump says he had the support of "almost everybody in this room."

"Nope, nope!" one man in audience says, followed by laughter, boos
Trump, of course, didn't even seem to notice or break stride as he spoke.
Trump's speech was, however, a generally positive affair. The president received a huge outpouring of applause after talking about his opposition to the Trans-Pacific Partnership, which was widely condemned by labor groups and citizens on both sides of the aisle. He also managed to reiterate his pledge to "put America first," and told the audience how he'd forced the execs building the Keystone XL pipeline that they needed to use American steel even though they'd already purchased steel from foreign sources. He also pledged to do things "that will be very good for the banking industry," saying that higher liquidity in the country would create jobs.
Watch the full video of Trump's speech below: