It seems that Donald Trump's ego is about to take another, hopefully fatal, hit.
Trump supporters organized themselves today for a historic "March 4 Trump" rally across the country. The march was said to be a direct counter-protest to the Women's March which occurred one day following Trump's inauguration and was meant to protest against the sexism, racism, xenophobia and homophobia that dominated Trump's campaign for the presidency.
The Womens' March turnout was absolutely historic. An estimated three times the number of people who attended Trump's inauguration, attended the protest in Washington D.C. and more than 500 other protests occurred simultaneously across the country. Dozens further occurred around the world — a testimony to the controversial nature of Trump's rhetoric. The estimated total number of protestors against Donald Trump on January 21st averaged around 4.1 million people.
In terms of comparable statistics, the Nashville pro-Trump demonstration turnout Saturday was estimated around 1,000 people, according to local reports, while the Nashville anti-Trump protest had approximately 15,000.
In Connecticut, a handful of pro-Trump people are going for a little walk: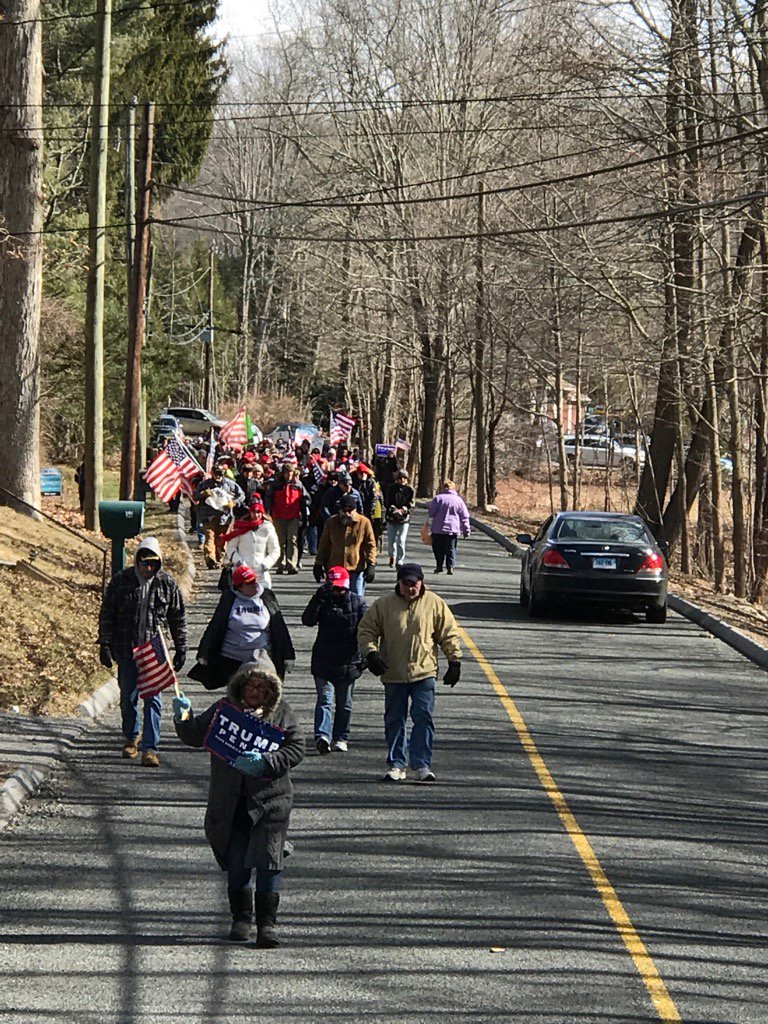 In Denver, ABC reports "dozens" of people in front of the capital building, compared to 145,000 in January against Trump. In Orlando, the Florida Republicans claimed it was a "great turnout" of about 200 people.
Unfortunately, the turnout in Miami was one of the largest, containing "a few thousand people" according to Twitter users:
Then there is Washington, D.C. in front of Trump Tower where again, perhaps 100 gathered to show their support of President Trump, some of whom accidentally using signs which progressives previously used during anti-Trump protests indicating ties with Russia.
Some of the turnout numbers are likely skewed as well, as many anti-Trump protestors showed up to various pro-Trump demonstration sites. In some cities, the tension between the groups went beyond taunts and things became violent.
Buzzfeed and other news outlets are present on the scene in Washington, many live-streaming the pro-Trump protest via Facebook.
In some of these feeds, followers can hear the kind of rationale that has motivated these people to go out and show their support for Donald Trump. One woman told a Buzzfeed reporter that she likes President Trump because:
'He's smart, he runs businesses…he has so many buildings, I trust him….The Bushs, the Clintons and Obamas should pay for this wall, because they created this mess.'

'The American people are wake now, they're tired. It's just not right.'
Other footage from the events demonstrates just how disturbed these people are:
These pro-Trump demonstrations come on the heels of the big cheese himself asking his supporters to organize themselves to counter the protests erupting periodically across the country since his election victory was announced. He claimed at the time that his pro-Trump demonstrations would be the "biggest of them all."
'Maybe the millions of people who voted to MAKE AMERICA GREAT AGAIN should have their own rally. It would be the biggest of them all!'
Maybe the millions of people who voted to MAKE AMERICA GREAT AGAIN should have their own rally. It would be the biggest of them all!
No doubt The Donald is pacing around having an absolute coronary over how bad this makes him look. We can probably start making bets now that in a few hours, he will tweet in a rage and try to crucify the media for not providing "fair coverage" of the number of people who attended, much like he did for his epic flop of an inauguration.