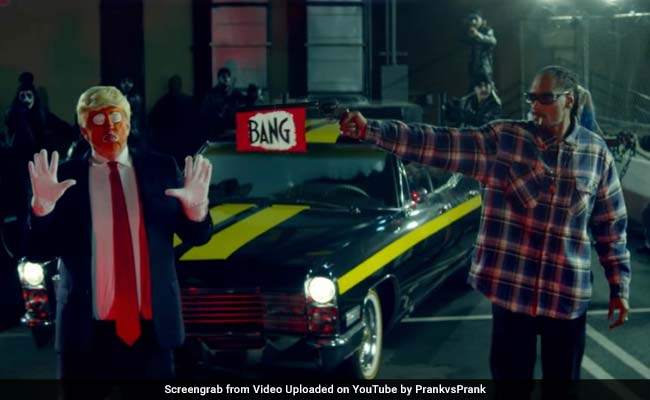 NEW DELHI: 
HIGHLIGHTS
Snoops music video shows him aiming a gun at a clown dressed as Trump
It has sparked negative reactions online for its gun violence and message
The mock assassination video has garnered 13 lakh views so far
Rapper Snoop Dogg has taken the Internet's general dislike for US President Donald Trump to a whole new level. In a recently released music video to the soundtrack 'Lavender', the rapper aims a fake gun at a clown that resembles the POTUS. "This is the final call," he says, pointing a gun at the clown, who is dressed as Trump and is smoking a cigarette. At the last moment, instead of a bullet, a flag bearing the word 'Bang' comes out of the gun.
The profanity-filled presidential assassination video has shocked netizens with its in-your-face violence.
Since being shared online one day ago, the video has garnered over 13 lakh views. Many, however, have condemned the video for its menacing violence and the message it conveys. Most agreed that it crossed a line. "I don't know what is worse, the music or the message," says one commenter on YouTube. Another comments, "It's no matter your political affiliation, whether you are right, left, or neither: *Mock Killing the POTUS is not okay*"
On Twitter too, many called the rapper out for his mock assassination video. Check out what they had to say:
Follow
Deb Anne cringan @debannec
@SnoopDogg Assassination of @POTUS crosses a line of decency. Unacceptable. Maybe you should meet with him to see how you can help Americans
7:41 AM – 14 Mar 2017
Retweets likes
Follow
Issa 6LACK Elvis @JT_is_Me
@SnoopDogg The willful assassination of a current #POTUS in verbal, written or performance is NOT protected free speech. Clear ur calendar.
7:40 AM – 14 Mar 2017
Retweets likes
Follow
Idamae Andersonjacks @IdamaeAnderson1
@thehill NO ONE DISLIKES #WICKEDTRUMP MORE THAN ME. HOWEVER, SNOOP DOGG, 🙁THIS VIDEO IS AWFUL. U DO NOT NEED GIVE MAD MEN THIS IDEA!
7:38 AM – 14 Mar 2017
Retweets likes
You can watch the video below:
(Viewer discretion advised. Video contains violence and language that is not suitable for children.)