The special counsel reportedly sent the White House a broad documents request focused on some of the president's most controversial actions.
While weeks of steady leaks about the Justice Department's Russia probe revealed that special prosecutor Robert Mueller is zeroing in on Paul Manafort, Donald Trump's former campaign chairman, andMichael Flynn, his erstwhile national security adviser, two new reports suggest that the former F.B.I. director has begun to train his focus on the president himself.
On Wednesday, The Washington Post and The New York Times reported that Mueller has requested an extensive volume of documents related to a series of actions Trump has taken since assuming office as part of his broader investigation into whether the Trump campaign colluded with the Russian government during the 2016 election and if he obstructed justice in the firing of James Comey as F.B.I. director.
Mueller is seeking internal communications and documents
Mueller is seeking internal communications and documents related to 13 areas that prosecutors have identified as crucial, particularly those related to the firing of Flynn and Comey, according to both the Post and Times. His team has requested any documents related to Flynn's interview with the F.B.I. earlier this year; his communications with Russian ambassador Sergey Kislyak; and then acting Deputy Attorney General Sally Yates's meeting with White House counsel Donald McGahn about Flynn and Flynn's subsequent firing. Similarly, the F.B.I. is seeking any documents related to meetings between Comey and Trump while the former served as F.B.I. director and any discussions about his subsequent dismissal, including those tied to the White House's initial statements justifying his ouster.
Additionally, Mueller has requested any internal communications or documents about Manafort; Donald Trump Jr.'s now infamous meeting with a Russian lawyer last June in Trump Tower; and the president's Oval Office meeting with Russian Foreign Minister Sergey Lavrov the day after he dismissed Comey.
"The White House doesn't comment on any communications between the White House and the Office of Special Counsel out of respect for the Office of Special Counsel and its process," White House lawyer Ty Cobb said in a statement to the Post. "We are committed to cooperating fully. Beyond that I can't comment."
Mueller's new focus on the White House indicates that his investigation continues to accelerate. News of the documents request came hours before the Post reported that that on July 7 of last year—less than two weeks before Trump accepted the Republican nomination—Manafort is believed to have offered a Russian oligarch closely aligned with the Kremlin, Oleg Deripaska private briefings of the presidential race through an intermediary. (Jason Maloni, a spokesperson for Manafort, dismissed the e-mail as "innocuous." Manafort has repeatedly denied any wrongdoing.)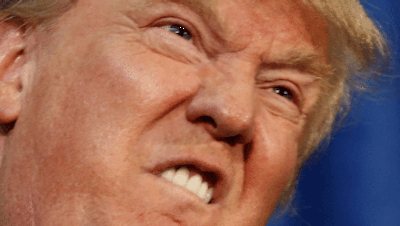 Donald Trump's White House is on the verge of a nervous breakdown.
One of Trump's biggest selling points during the election was that he would run his government like a business. Aside from the fact that the whole premise makes no sense, the problem is that Trump is trying to run the government like his businesses—that is, badly. If Trump is America's boss, the past three weeks have shown the depths of his inability to manage the country. And it's starting to take a psychological toll on his administration.
Part of the problem is that Trump is not very smart. As reported byPolitico, he is overwhelmed by even the most basic parts of his job. He is astounded by things that you learn in the 4th grade, like the fact that there is a separation of powers. He doesn't understand why judges can overturn his executive orders and the Senate can delay his nominees. According to the article, Trump "often asks simple questions about policies, proposals, and personnel. And, when discussions get bogged down in details, the president has been known to quickly change the subject—to 'seem in control at all times.'"
His staff is on a knife's edge. National Security Council staffers are mad because of Steve Bannon's appointment. No one quite knows what Jared Kushner does, but they "worry about running afoul" of him. Sean Spicer is miserably feeling the hot, hot breath of his boss over his shoulder at every moment (which he deserves). And the whole operation is leaking to the press like a sieve, prompting Trump to order internal investigations against his own people. Everyone is exhausted and demoralized. Some are starting to wonder if a "staff shake-up is in the works." Apparently it's so bad that even Chris Christie, a boy who thinks he deserves a balloon, believes he might get hired.
Trump is clearly getting frustrated by his job. If only he could quit.