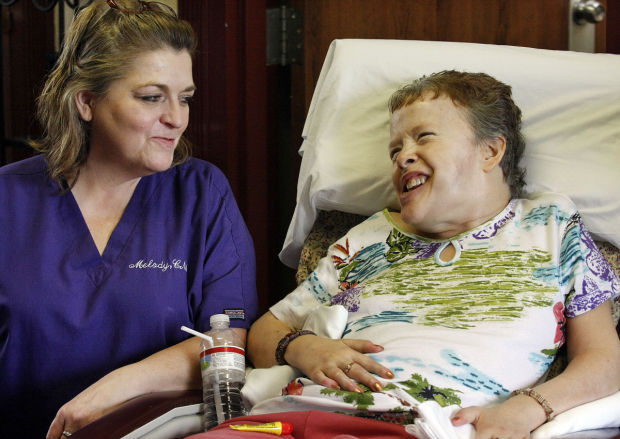 DECATUR — Suppose you were paralyzed from the neck down. You could be forgiven for having a "poor me" attitude.
Therese Lipe is not bitter. On the contrary, she's cheerful, smiling and upbeat.
The Decatur woman, age 53 this month, has been in Symphony of Decatur (formerly Aspen Ridge Care Centre) for 11 years. She was diagnosed with multiple sclerosis 21 years ago.
"It's wonderful," Lipe said. "They take wonderful care of me.
"There is no pain. I can feel everything from the top of my head to my toes."
Melody Wilson of Clinton, an aide who often takes care of Lipe, praises: "She's the best, regardless of the circumstances." Julie Welker, the activity director, is amazed, too. She said people who meet Lipe are impressed. "She's a ray of sunshine, a model for all of us who complain, she radiates a love of Jesus." The walls of Lipe's room are filled with "Wizard of Oz" and "Sound of Music" posters and pictures, reflecting another love, a love of music.
When Gary Beadles, the former associate pastor of Central Baptist Church, would visit her, Lipe always asked him to sing "Down by the Riverside."
"We had fun joking around," she said.
 Her salvation has been accepting the Lord, she explained.
"Melody told me how she works in the church," Lipe said. "I had not been saved. I grew up a Catholic. I smoked and drank.
"One day I asked Melody if I could be saved. Pastor Beadles came to see me," she said.
"Then, one morning I woke up with a warm feeling. I was saved. I called all my friends. That was seven years ago."
Beadles baptized her. Now Lipe is a member of Central Baptist Church. She has a Bible propped up in her room and a magnifying device. "I trust the Lord as my savior," she said.
Lipe's mother, Bernie, is also at Symphony of Decatur, right down the hall from her. Her father, Lester, a former city treasurer, is deceased.
Lipe's comfort verse is 2nd Corinthians 1-4: "Blessed be the God who comforts us in all our tribulations that we may be able to comfort those who are in trouble, by the comfort with which we are comforted."