Even before he took office in January, President Trump had enemies in the Senate. He hasn't done a very good job of trying to improve these relationships, either. In fact, since he entered the White House, he's only alienated more members of the Senate, especially after referringto them as "fools" and "total quitters" when they were unable to repeal the Affordable Care Act last month.
If Trump wants to remain in office, he might need to reconsider his approach. With all the enemies he's accumulated after just over six months on the job, the Brookings Institute has predicted that, if Trump faces an impeachment trial in the near future, he will likely not get the support needed from the Senate to remain president.
In a report published earlier this month, the Brookings Institute's Elaine Kamarck explained the way the Senate could contribute to Trump's downfall:
'Conviction requires two-thirds of the Senate and by my count there are already twelve senators who have shown a willingness to take on the president when they believe he is in the wrong. If you add that to the forty-eight Democrats in the Senate (who have shown no inclination to work with this President), Donald Trump could be six votes away from conviction in the Senate.'
Kamarck also noted that Article 1 of the Constitution gives the Senate "the last word on the presidency."
Kamarck went on to list the 12 Republican senators who have already proven that they are willing to go against the president when his plans do not align with what they think is best for their constituents.
At the top of the list were Senators Susan Collins of Maine, Lisa Murkowski of Alaska, and John McCain of Arizona, who all voted against the plan to repeal that ACA last month.
Other senators who have criticized and voted against the president include Senators Dean Heller of Nevada, Rob Portman of Ohio, and Shelley Moore Capito of West Virginia. Portman and Capito have been particularly critical of Trump's proposed budget, especially the cuts it would make to drug treatment programs.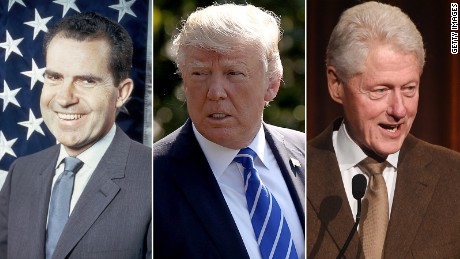 In addition to those who oppose his budget and health care plans, there are also members of the Senate who are very concerned about the investigation into Trump's Russia ties. Two Republican senators — North Carolina's Thom Tillis and South Carolina's Lindsey Graham — have recently co-sponsored bipartisan bills that would hinder the president's ability to fire special counsel Robert Mueller.
Meanwhile, Senator Chuck Grassley (R-Iowa) has criticized Trump for his attacks on Attorney General Jeff Sessions, and Senator Rand Paul (R-Kentucky) has repeatedly been a "thorn in President Trump's side," particularly regarding his foreign policy appointments.
Senator Jeff Flake (R-Arizona) likely will not be coming to Trump's aid anytime soon, either. Flake wrote an entire book, Conscience of a Conservative, that is dedicated to accusing Trump of abandoning Republican principles.
Kamarck suggested in her report that the 12 senators discussed above would almost definitely vote against Trump should he be impeached. She also tentatively added Senator Cory Gardner (R-Colorad0), who will be up for re-election in 2020, to the list after noting that his state voted for Hillary Clinton in last year's election. With or without Gardner on the list, though, Kamarck's primary argument still stands: