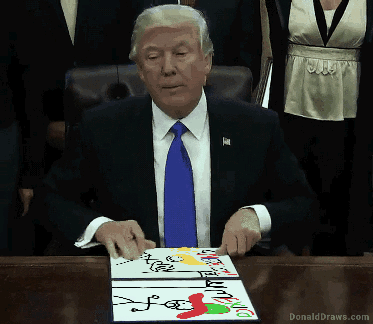 If you needed further proof that President Trump cares little about United States national security, well here it is
According to a new report from the New York Times titled "Turmoil at the National Security Council, From the Top Down," Trump's National Security Council (NSC) seemingly isn't concerned with the details when it comes to publishing reports pertaining to the nation's national security. Which is to be expected, anyway, considering Trump promoted people like white nationalist and chief strategist Steve Bannon to the NSC.
The report published Monday by The Times includes excerpts from interviews with over two dozen national security staffers, many of whom blame Trump's Twitter habit for actively undermining the efforts put forth by the council.
The report reads: "Three weeks into the Trump administration, council staff members get up in the morning, read President Trump's Twitter posts and struggle to make policy to fit them. Most are kept in the dark about what Mr. Trump tells foreign leaders in his phone calls. Some staff members have turned to encrypted communications to talk with their colleagues, after hearing that Mr. Trump's top advisers are considering an 'insider threat' program that could result in monitoring cellphones and emails for leaks."
Senior Democrat on the House Intelligence Committee, Rep. Adam B. Schiff of California, told The Times in a phone interview that "It's so far a very dysfunctional N.S.C." under the thumb of the Trump administration.
In fact, Trump's likes his national security policy delivered in a way that's vastly different from President Obama's, a change which is surely difficult to get used to.
'And while Mr. Obama liked policy option papers that were three to six single-spaced pages, council staff members are now being told to keep papers to a single page, with lots of graphics and maps.'
Another perhaps unsurprising change is the addition of graphics and maps, which Trump likely needs to decipher national security matters. One official reportedly revealed to the Times:
'The president like maps.'
New Trump appointees are reportedly carrying around coffee mugs with campaign slogans on them into NSC meetings.
In a phone interview with The Times, deputy national security adviser K. T. McFarland, who's worked in the White House since the Reagan administration, explained:
'Not only is this a new administration, but it is a different party, and Donald Trump was elected by people who wanted the status quo thrown out. I think it would be a mistake if we didn't have consternation about the changes — most of the cabinet haven't even been in government before.'
To make matters worse, a number of staff members refused to work for Trump, which has left a gap in terms of experienced members of the NSC. As for the remaining seasoned experts:
'Many of those who remain, who see themselves as apolitical civil servants, have been disturbed by displays of overt partisanship. At an all-hands meeting about two weeks into the new administration, [deputy national security adviser K. T. McFarland] told the group it needed to "make America great again."'