Me: "Russia is a big story."
Conway: "Why?"
Here's what happened next https://t.co/UwopkZdW2x

— Brian Stelter (@brianstelter) July 23, 2017
Kellyanne Conway says the media spends too much time covering allegations of collusion between the Trump presidential campaign and Russia during the 2016 campaign.  "You look at his job through the lens of Russia. I look at his job through the lens of America," Conway told CNN's Brian Stelter, adding that the ongoing Russia investigation was "not a big story."
Tweets calling out Kellyanne below….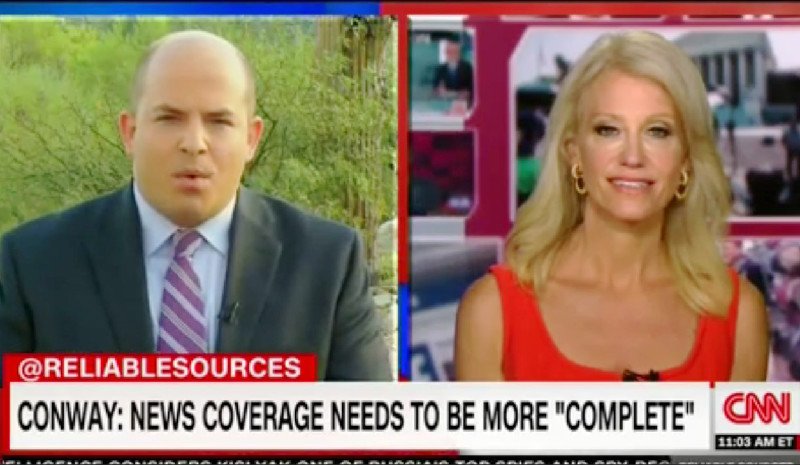 Trump donated to Schumer in 2013!!

I had forgotten about that delicious fact! Thanks!!!

Trump donated to the Clintons in the past.

Trump & Co hypocrisy is the gift that keeps on giving! w/ receipts included! lmao

Why oh why does anyone give these liars air time?

No- let them have the air time. Just proves how corrupt, treasonous, and ignorant they truly are. Mueller needs the evidence…LOL

I love how CNN only became fake after they started calling out the Mango Menace.
Hey @KellyannePolls Trump was huge democratic contributor before he wasn't so by your logic he should resign! Don't hold water darling*

Sigh. @brianstelter why the f did you have her on?? Zucker make you? Christ, I get "ratings" but is there no line?

Ratings? Kellyanne Conway is this one sure way to make me change channels.
Trump is a democratic donor & so is his new comm. director.
Conway, like Sanders and now Scaramucci, is a shameless pimp for Trump. What happened to at least a little bit of honor and truthfulness?
Sure @KellyannePolls. Keep crapping on the Republican Vietnam Vet w/ the Purple Heart and Bronze Star, who has tirelessly served his country

To defend the draft dodging, thinks he's a king POS, that can't be bothered to work weekends. Nice job.