Kellyanne Conway is in serious trouble. Citizens For Responsibility And Ethics In Washington (CREW), the Office of Government Ethics, and the White House Council's Office filed a complaint against her for endorsing the Ivanka Trump merchandise on live television. The ethics groups demanded an investigation in to Conway's actions.
CREW is a non-partisan, non-profit legal watchdog "dedicated to holding public officials accountable for their actions." In a CREW press release, the group said:
Counselor to the President Kellyanne Conway's official endorsement of Ivanka Trump's products from the White House this morning was an apparent violation of federal law, ethics regulations and other standards of conduct.'
Conway, 50, endorse Ivanka Trump's merchandise in an interview on Fox & Friends, where she urged:
'Go buy Ivanka's stuff is what I would tell you…It's a wonderful line. I own some of it. … I'm going to give a free commercial here. Go buy it today, everybody. You can find it online.'
As a representative for the president, Conway was operating in her official role when she made the endorsement. Not only that, Fox & Friends introduced the woman as "special counselor to President of the United States, Kellyanne Conway, who joins us today from the briefing room." The White House seal was clearly in the shot with president's mouthpiece at the time.
Executive Director of CREW Noah Bookbinder said:
'The law is clear that public officials should not use their offices for their own private gain or the private gain of others. It's hard to find a clearer case of that kind of misuse of office than we saw today.'
Bookbinder said that federal ethics regulations clearly indicate that no employee can endorse "any product, service or enterprise." The regulations even go into more detail, noting that a government employee:
'May not appear in a television commercial in which she endorses a product.'
In addition, Conway violated federal law that says public funds cannot be used for unofficial purposes. Hawking Ivanka Trump's retail products is not "an official purpose of the United States government."
Bookbinder continued:
'This is just another example of what looks like a disturbing pattern of this administration acting to benefit the businesses of the president's family and supporters. Americans are unfortunately at the point where they have to question who the Trump administration is looking out for, the American people or the Trump family.'
Click here to read CREW's complaint: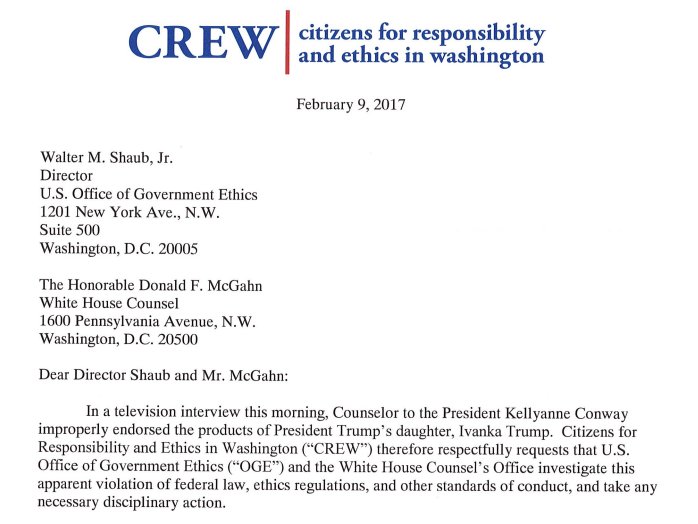 Then, the question becomes will Conway find herself above the law, too?
Check out Conway on Fox & Friends in the video below: