AMERICANS ARE CONFUSED AND DISGUSTED AS WE BEGIN TO LEARN MORE DETAILS ABOUT THE 28-YEAR-OLD ADVISER WHO'S GETTING A BIG PROMOTION FROM PRESIDENT DONALD TRUMP.
Trump operative Hope Hicks is expected to be given the permanent position of White House communications director in the coming weeks, even though she has absolutely no experience in government or politics.
Now observers are scouring through the details of Hicks' brief career history, looking for clues about how she may preside over the White House communications office.
Insiders say Hicks has fostered an unusually close relationship with Trump, even though he is more than 40 years older than her. Trump has reportedly even started giving Hicks cutesie names around the office.
Politico reports:
She is protected, in a world of rival power centers, by the deep bond she shares with the man at the top. He affectionately refers to her as "Hopester." She still calls him "Mr. Trump." And she views her job, ultimately, as someone who is installed where she is in order to help, but not change, the leader of the free world.
… In a White House staffed with aides pushing their competing personal agendas, Hicks stands apart as a loyalist who is there solely because of her commitment to Trump and his family, who isn't eyeing the next job up the food chain. She is sometimes treated like an extended family member of the close-knit clan. She has joined Jared Kushner and Ivanka Trump for Shabbat dinner at their Kalorama mansion, and stood shoulder to shoulder with the Trump family during an audience earlier this year in Rome with the pope, along with other inner-circle aides.
Hicks is only a few years out of college. She previously worked as a public relations manager in the Trump family's corporate empire, and then ended up getting a job on Trump's 2016 presidential campaign before transitioning to the White House. She's now expected to replace disgraced former communications director Anthony Scaramucci.
The Times of London reports:
Hope Hicks, 28, Mr Trump's longest serving political aide, has been named interim communications director. The former Ralph Lauren model will oversee how the West Wing communicates with Americans and the wider world.
No adviser has risen as fast as Ms Hicks. Before joining the Trump campaign in 2015 she worked for Ivanka Trump, promoting her fashion brand. She has rarely spoken in public, has tweeted only three times and has refused to answer questions about her life or politics.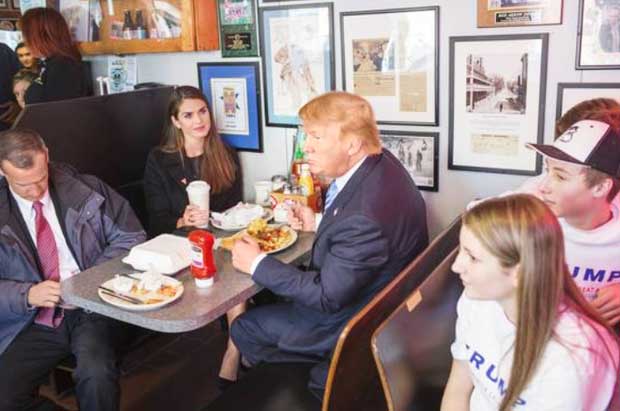 What do you think – should she be given such an important role in the White House?