Attorney General Jeff Sessions issued a statement in response to allegations that he lied under oath about contact with Russian Ambassador to the U.S., Sergey Kislyak.
The statement, released late Wednesday, reads: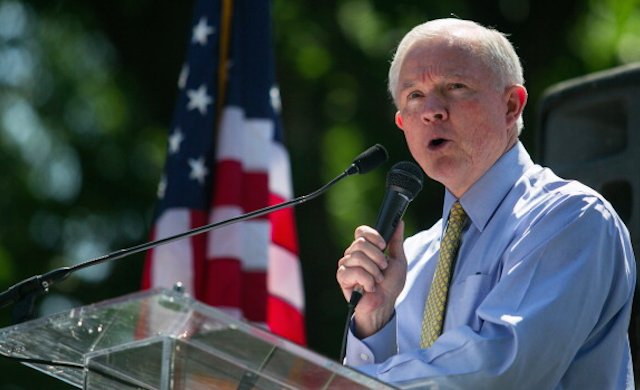 'I've never met with any Russian officials to discuss issues of the campaign. I have no idea what this allegation is about. It is false.'
The Washington Post reported Wednesday that the former Alabama Senator spoke to Russian Ambassador to the U.S. twice last year, with one of the meetings having taken place privately in Sessions' office in September – during what officials claim was a Russian cyber campaign intended to interfere with the results of the 2016 presidential election.
At his Judiciary Committee confirmation hearing, asked Sen. Patrick Leahy (D-Vt.) asked Sessions point-blank whether or not he had ties to Russia:
'Several of the president-elect's nominees or senior advisers have Russian ties. Have you been in contact with anyone connected to any part of the Russian government about the 2016 election, either before or after election day?'
Sessions said "no."
Sen. Al Franken asked Sessions what he would do if is was discovered that members of Trump's campaign communicated with Russian officials, Sessions said:
'I'm not aware of any of those activities. I have been called a surrogate a time or two in that campaign and I did not have communications with the Russians.'
When Franken was asked about his alleged communications with Kislyak, he called Sessions's response during his confirmation hearing "misleading."
'If it's true that Attorney General Sessions met with the Russian ambassador in the midst of the campaign, then I am very troubled that his response to my questioning during his confirmation hearing was, at best, misleading. It is now clearer than ever that the attorney general cannot, in good faith, oversee an investigation at the Department of Justice and the FBI of the Trump-Russia connection, and he must recuse himself immediately.'
According to Sessions's spokeswoman, Sarah Isqur Flores, "there was absolutely nothing misleading about his answer" because he didn't believe his conversations with Kislyak related to Franken's questioning.
The Post followed up to see if Sessions's communications with Kislyak were standard practice for the 26 other members of the Senate Armed Services Committee. Nineteen lawmakers responded, telling The Post that they didn't meet with Kislyak last year, nor did they regularly meet with foreign ambassadors, despite Sessions's previous claims.
A senior Senate Armed Services Committee staffer told The Post:
'Members of the committee have no been beating a path to Kislyak's door. There haven't been a ton of members who are looking to meet with Kislyak for their committee duties.'
Earlier this month, Trump's National Security Adviser Gen. Michael Flynn resigned from his post after the media discovered he had discussed U.S. national security issues with Kislyak on several occasions, before Trump took office.
As of Wednesday evening, top Democrats have already begun demanding Sessions's resignation.